Dairy Dash 5K & 1- Mile Memory Walk
Welcome to our Dairy Dash 5K page! We are excited that you've come to explore this special event! We've held our 5K for five years and are excited to announce our 6th Annual coming up on Labor Day Weekend 2018.
6TH ANNUAL DAIRY DASH
SEPTEMBER 1, 2018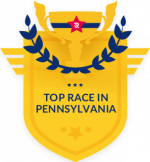 Become a "Friend of the Dairy Dash" with a gift of $100 or more
You will be acknowledged at the event and receive one complimentary registration & t-shirt (after completing your gift at the online registration store here). At the conclusion of the event, you will receive a formal acknowledgement letter and certificate.
All proceeds from the Dairy Dash will support the Shon Seeley Legacy Fund for Sustainable Farming Education. This fund honors the life and memory of Shon Seeley through support of educational programming specific to the farming principles held dearly by him: livestock grazing, sustainable beef & dairy production, value-added dairy processing, livestock genetic preservation, and native pasture grass management & weed identification.
About our Dairy Dash 5K
The 3.1-mile loop Cross Country Trail Course is NCAA Certified and part of the beautiful Lambs Creek Recreation Area, administered by the Army Corps of Engineers, Baltimore District.
Early Registrants (prior to 11:59pm on 8/15/18) receive our Made in the USA event t-shirt.
The 5K is chip-timed & real time race results are provided to runners via Facebook, Twitter, or text.
The 1-Mile Memory Walk starts after the 5K steps-off.
Water stop provided & refreshments are served post race, including Milky Way Farms delicious chocolate milk!
We invite runners & walkers, and strollers and baby joggers are permitted too. Bicycles, skates and pets are not permitted.
Ample free parking is available.
Awards are given to the 5K 1st Place Overall Finishers, and Male & Female age group prizes are awarded as well.


MAKE THE MOST OF YOUR VISIT TO THE NORTHERN TIER!

Recreational & Local Food Resources

 

DIRECTIONS TO LAMBS CREEK RECREATION AREA

From the North: Route 15 South, First Mansfield exit, turn right at the Lamb's Creek Recreation Area signs.

From the South: Route 15 North, Second Mansfield exit on to Route 6. Follow Route 6 East into Mansfield.  At the Main Street stop light (second stop light), turn left onto North Main Street.  Head out of town and bear to the left under the overpass. Follow signs to Lamb's Creek Recreation Area.

From the West: Route 6 East into Mansfield.  At the Main Street stop light (second stop light), turn left onto North Main Street.  Head out of town and bear to the left under the overpass. Follow signs to Lamb's Creek Recreation Area.

From the East: Route 6 West into Mansfield.  At the Main Street stop light, turn right onto North Main Street.  Head out of town and bear to the left under the overpass. Follow signs to Lamb's Creek Recreation Area.

FOR ADDITIONAL RACE INFO OR QUESTIONS

Contact Lauren Smith, 814-349-9856, or lauren@pasafarming.org.

5th Annual Dairy Dash

September 2, 2017

View photos from our 5th annual event here!

---

 

SEPTEMBER 3, 2016

Watch the video from our 4th annual event here!
View photos of our 4th annual event here!

 

---